The Health o Meter 553KL is a high-performance digital pediatric scale specifically designed to accommodate active babies and provide accurate weight measurements. Equipped with advanced motion-sensing technology, this scale can capture the weights of even the most lively infants, ensuring precise readings.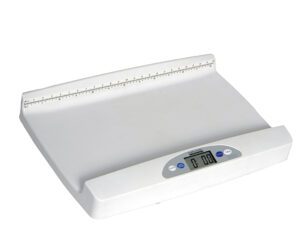 One of the standout features of the Health o Meter 553KL is its easy-to-read LCD display. The large digital screen allows healthcare professionals to quickly and effortlessly view the weight measurements. The clear and well-illuminated display ensures readability in various lighting conditions, enhancing the efficiency of the weighing process.
Features
Capacity:
44 lbs.
Increments:
0.5 oz
Display:
  1 inch LCD
Power:
6 AA batteries (inluded), optional AC adapter
Platform Size:
25 x 12.5 inch sanitary tray
To prioritize the comfort and safety of the baby, the scale is built with a large and stable weighing tray. The tray has raised edges that prevent the baby from rolling or slipping off during weighing, providing a secure and cozy environment. This feature contributes to the accuracy of the measurements by minimizing any potential disturbances or movement during the weighing process.
The digital pediatric scale also incorporates tare memory functionality. This means that healthcare professionals can use the scale's tare function to subtract the weight of a blanket or diaper, ensuring that the measurement reflects the baby's actual weight. The tare memory platform stores this information, allowing for convenient and accurate subsequent weighings without the need for repeated calculations.