Detecto 6560 Wheelchair Handrail Scale
The DETECTO 6560 Portable Electronic Physician Handrail Wheelchair Weight Scale is a versatile clinical scale designed for wheelchair weighing, with the added benefit of a curved handrail to ensure patient stability during standing measurements. It offers a range of features that make it convenient and efficient for healthcare professionals.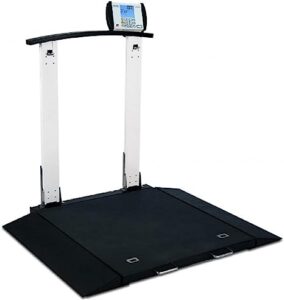 Featuring an elegant curved handrail, the DETECTO 6560 provides patients with stability and support during weighing in a standing position. The handrail's design not only enhances patient safety but also adds a touch of aesthetic appeal to the scale.
The scale includes a BMI calculation feature, providing healthcare professionals with an additional tool for assessing patients' body mass index. This information is essential for evaluating overall health and monitoring changes in weight and body composition over time.
Features
Capacity:
1,000 lb / 450 kg
Increments:
0.2 lb / 0.1 kg
Display:
3.5 inch backlit blue LCD
Power:
AC adapter or 6 C batteries (not included)
Platform Size:
32 in x 36 in / 81 cm x 91 cm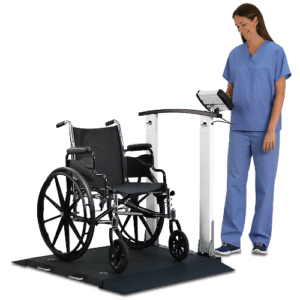 To save time and streamline the weighing process, the DETECTO 6560 incorporates a pushbutton tare function. This feature enables the removal of the wheelchair weight, allowing healthcare providers to obtain the accurate weight of the patient alone without the need for manual calculations.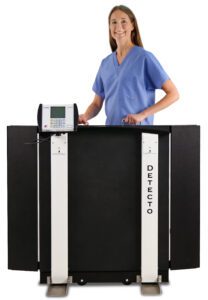 For easy transport and storage, the scale is equipped with columns that can be folded down and locked into place by sliding the release levers. This folding feature allows for swift and effortless transportation, making it convenient for healthcare professionals to move the scale between different locations. Additionally, the vertical storage capability saves valuable space when the scale is not in use.
Wheels are integrated into the design, making the scale effortlessly portable. These wheels allow for easy maneuverability and transportation between different areas within a healthcare facility.