The Health o Meter 594KL is a highly versatile weighing system designed to prioritize patient comfort during the weighing process. It is equipped with a convenient moveable arm and footrest, allowing individuals who cannot stand on a conventional scale to be comfortably accommodated. This feature proves particularly beneficial for those who do not use a wheelchair, providing them with an inclusive weighing solution.
Features
Capacity:
600 lb / 270 kg
Increments:
0.2 lb / 0.1 kg
Display:
1 ⅜" / 35 mm LCD
Power:
100-240V adapter (included), 6 AA batteries (not included)
Seat Dimensions:
18-1/4″ x 14-1/2″ x 17-1/2″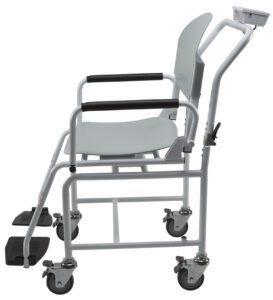 With a remarkable weight capacity of up to 600lb (280kg), the Health o Meter 594KL ensures that it can handle a wide range of body types and sizes, accommodating a diverse patient population. This exceptional capacity makes it suitable for individuals who require a scale capable of accommodating their unique needs.
Moreover, this advanced weighing system is not only limited to its impressive weight capacity but also offers an array of additional functions to further enhance its utility. These diverse functions include but are not limited to body mass index (BMI) calculation, body composition analysis, and memory storage capabilities, providing healthcare professionals with valuable data and insights for comprehensive patient assessment.
The Health o Meter 594KL is a reliable and user-friendly solution that caters to the specific requirements of individuals with mobility challenges. Its moveable arm and footrest, coupled with its high weight capacity, make it an ideal choice for those seeking a comfortable and accurate weighing experience. Furthermore, its multifunctionality ensures that healthcare providers have access to a comprehensive tool for effective patient evaluation and monitoring.